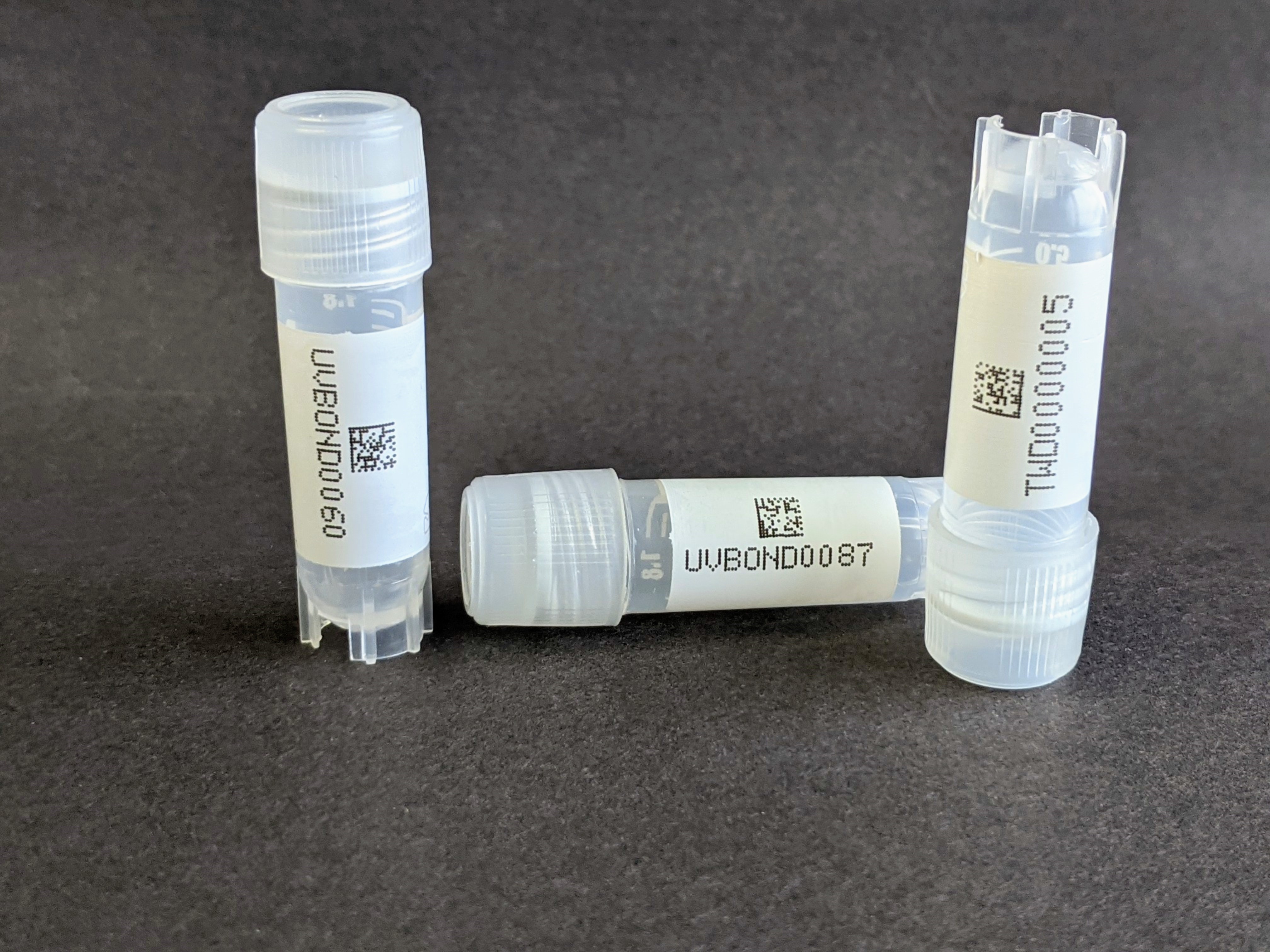 January 12, 2021 (Pleasant Prairie, WI) – TWD TradeWinds Inc. (TWD) today announces its introduction of a new barcoding service with UVBond technology.
UVBond adds another versatile and affordable option to TWD's innovative line of barcoding technology. It is capable of digitally printing barcodes, text, and graphics directly onto both glass and plastic labware. In particular, UVBond provides a fast turnaround solution for plates and freezer boxes with large flat surfaces. Like other TWD barcoding technologies, UVBond is designed for laboratory automation, offering permanent barcodes that are ideal for sample identification. UVBond is chemically resistant and safe under cryogenic conditions.
TWD's custom barcoding technology portfolio consists of PermaBond, FusionBond, ThermaBond, and UVBond, offering multiple options of permanent sample identification for plastic and glass labware.
"TWD is committed to continued innovation in new permanent sample identification technologies to better serve the laboratory automation industry," John Wang, President and CEO of TWD TradeWinds, commented. "All our technologies offer unique properties and value propositions, but they are all Custom, Digital, and Permanent".
TWD is a privately held, minority owned small business with manufacturing and warehouse facilities centrally located in the United States. TWD provides a wide variety of permanently barcoded glass and plastic sample vials, serving the pharmaceutical and life science research community, particularly in compound management and bio-banking. In addition, TWD supplies glass and plastic laboratory consumable products through its subsidiary/affiliated companies under the name of TWD Scientific, TWD BioX, TWD Trident, and Kemtech America, Inc. Additional information about TWD products and services can be found on TWD website at https://www.twdtradewinds.com/.