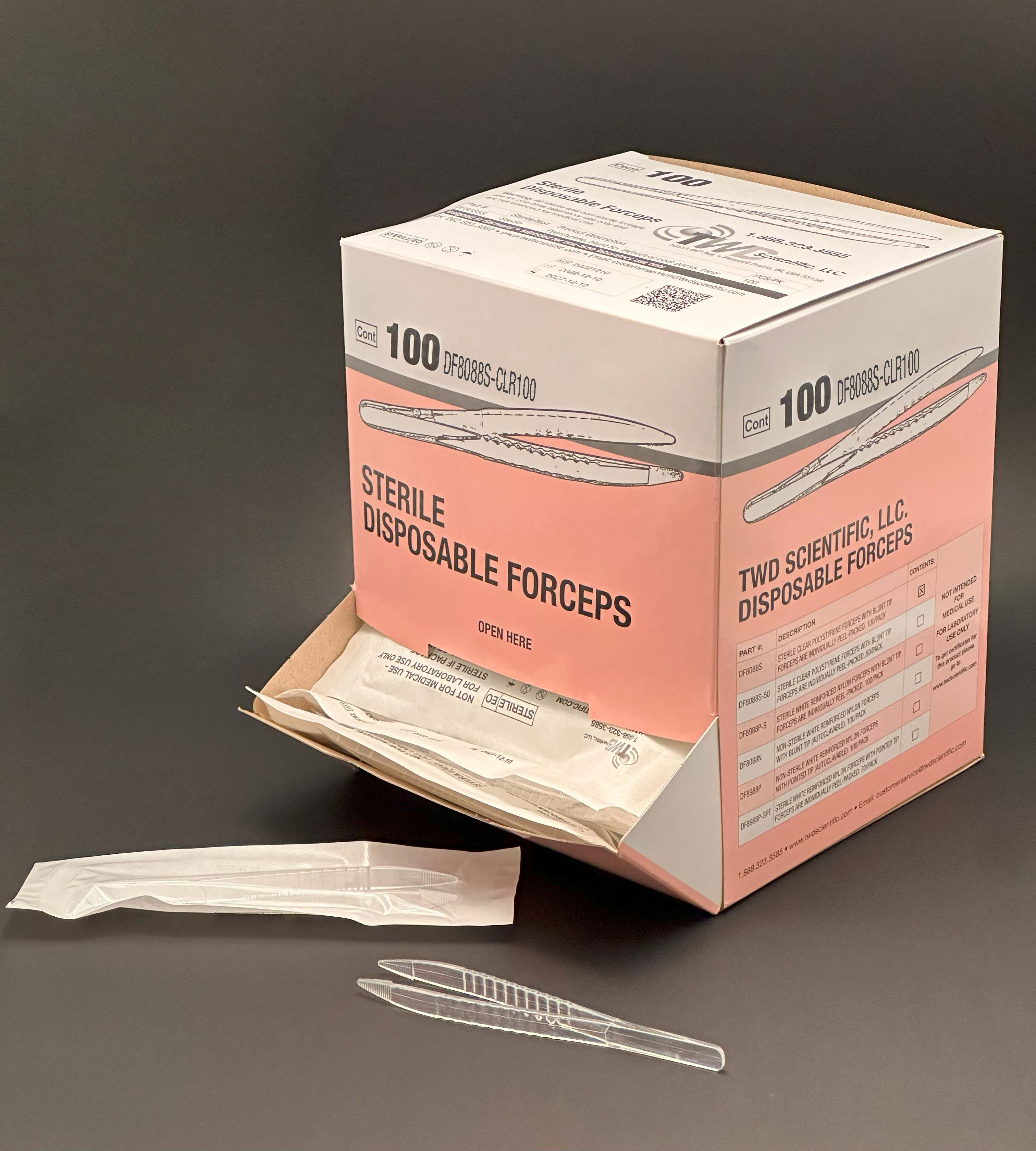 July 27, 2023 (Pleasant Prairie, WI) – TWD Scientific, LLC announces its introduction of a new line of disposable forceps and weighing funnels.
TWD Scientific upgrades an already incredible product by adding new disposable forceps that are endotoxin free and sterile! These blue polystyrene forceps with blunt tips are individually peel-packed for easy use. TWD Scientific has also introduced a new dispenser box for fifty-and-one hundred individually peel-packed forceps. Now you can have all your forceps in one place without the clutter.
Along with the forceps, TWD Scientific is introducing new assorted packs for both plastic and glass-weighing funnels. They are available in six different sizes, polypropylene, antistatic polypropylene, and borosilicate glass. Each weighing funnel sits flat on balance so there is no rolling or spilling and is designed to fit volumetric flasks, micro-tubes, or any narrow neck apparatus for spill-free transfer.
TWD Scientific, LLC is a minority woman-owned company that supplies disposable products to laboratories across the world. We pride ourselves on superior customer service, competitive pricing, and a long-standing track record of excellent quality.
Over the past 26 years, we have invented and produced innovative disposable products:
1997 – Patented disposable polypropylene weighing funnels in various sizes
1998 – First to produce antistatic disposable weighing funnels
2000 – First to introduce sterile disposable forceps in various shapes
2002 – First to design and produce ChillTrough with disposable liners
2023 – Introducing endotoxin-free sterile disposable forceps
We currently have several new products in the pipeline!